---
Livestream Mass: Facebook or YouTube, Sunday Worship Aid.
---
Daily Mass: Tuesday – Friday 9:00am  (livestreamed) followed by he Holy Rosary with Sister Dolores at 9:45am.
Weekend Masses: Saturday: 5:30pm, Sunday: 9:00am, Sunday: 11:00am (livestream)
Click Here for the Angelus.

---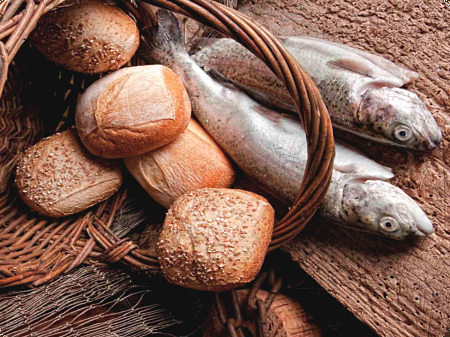 The Miracle of the Loaves and Fish:
Gospel Reflection on John 6:1-15. Sunday July 25, 2021
In this week's Gospel, we see how the miracle of the loaves and fish happened. This miracle teaches us about the gift we receive in the Eucharist, when the bread and wine become Body and Blood of Christ. Just as Jesus made the five barley loaves and two fish enough for the crowd of five thousand people, Jesus will also work within us to make our service fruitful. This week when you reread the Gospel with your family, discuss: When Jesus saw that the crowd was hungry, what did He do? What do you think happened? Ask your children to recall a time when their contribution helped everyone to complete the task or accomplish a goal. How did they feel about themselves afterwards? From this we learn what is meant by Paul's teaching, "it is in giving that we receive" (Acts 20:35). It is an even greater gift when we offer ourselves to God in the Holy Sacrifice of the Mass, knowing that we are imperfect, yet believing that we will be transformed by the Blessed Sacrament into the work of the Spirit in the world. God has given us many gifts to share, and in the Eucharist, He gives us Spiritual Food for our journey in the world.
---
What's New?
Download Parish Bulletin
Food Pantry Drive-thru: Wednesdays 10 – noon
Notice: The Sunday 11:00 am and all daily Masses are live-streamed for use on various Diocesan digital media accounts of the Catholic Diocese of Richmond, including, but not limited to, the websites of the Catholic Diocese of Richmond and The Catholic Virginian, and social media platforms of the Catholic Diocese of Richmond. Photography and/or screenshot images from the live-stream may be used for The Catholic Virginian print edition. If you do not wish to be captured by live-streaming, please refrain from attending those Masses.
---
Pope Francis to celebrate the first World Day for Grandparents and Elderly:
On January 21, 2021, Pope Francis declared a new World Day for Grandparents and the Elderly to take place every fourth Sunday in July! Pope Francis celebrated the first Mass for the world day on July 25th, and the theme was: "I am with you always"  (Matthew 28:30). (See the Vatican News article and the Pope's Message.)