---

---

---

---
Livestream Mass: Facebook or YouTube, Sunday Worship Aid.
---
Daily Mass: Tuesday – Friday 9:00am  (livestreamed) followed by the Holy Rosary with Sister Dolores at 9:45am.
Weekend Masses: Saturday: 5:30pm, Sunday: 9:00am, Sunday: 11:00am (livestream)
Click Here for the Angelus.

---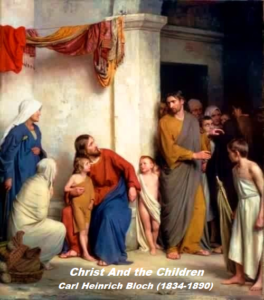 Serve the Least to be Great in God's Eyes:  
Gospel Reflection on Mark 9:30-37, Sunday, September 19, 2021
In this week's Gospel, Jesus calls forward a child and teaches the Twelve that to receive a child in Jesus' name is to receive both Jesus and the One who sent him. First-century Palestinian children possessed no status or power, or legal rights. Jesus is teaches when we serve the least ones among us, we serve Jesus himself. Discuss with your family: Think about the people you see on the news or in magazines or TV shows. Who are some people who are considered great or very important? Why are they thought of as great or important? What did Jesus tell his disciples would make them great? In Jesus' time, children didn't have any power or rights. Jesus told the disciples that they are great in the Kingdom of God when they serve the people who have the least, like children. Jesus teaches us what is most important. It is not having the best things or being the best at something. When we freely and lovingly serve others, we are great in God's eyes.
---
What's New?
Download Parish Bulletin
Food Pantry Drive-thru: Wednesdays 10 – noon
Notice: The Sunday 11:00 am and all daily Masses are live-streamed for use on various Diocesan digital media accounts of the Catholic Diocese of Richmond, including, but not limited to, the websites of the Catholic Diocese of Richmond and The Catholic Virginian, and social media platforms of the Catholic Diocese of Richmond. Photography and/or screenshot images from the live-stream may be used for The Catholic Virginian print edition. If you do not wish to be captured by live-streaming, please refrain from attending those Masses.
---
Pope Francis holds the ne Korean saint as a model of faith and evangelization:
Pope Francis sent a message to Korean Catholics on the occasion of the 200th anniversary of the birth of St. Andrew Kim Taegon, Korea's first Catholic priest, on August 21. (See this article by Robin Gomes on Vatican News)