All Masses NOW OPEN!!                                                      Updated: 5/31/2020,   9:30 AM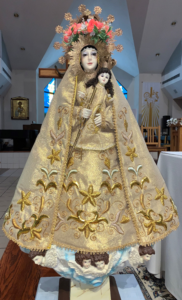 We've missed you! Join us Saturdays at 5:30 pm and Sundays at 8:00 am and & 11:00 am (Please arrive 1/2 hr early to allow time for the ushers to seat you.), and daily Mass at 11:00 am (25 available seats for daily Mass). Enter through the front or Atrium doors.  All parishioners age 10 and up must wear a mask. If you do not have a mask, one will be provided to you. Those answering yes to any of the following questions are asked to watch Mass online out of an abundance of caution for the health and safety of all: 
–  Have you or anyone in your household had a fever in the past two weeks?
–  Do you or anyone in your household have a new cough or new shortness of breath?
–  Have you come into contact with anyone who is positive with COVID-19 in the past two weeks?
For more information see the Diocesan Return-to-Mass-Guidelines
Livestream Mass: Facebook or Youtube Sunday 11am. Worship Aid for this Sunday Mass is available!
Join us for Daily Mass with Father Romy at 11:00 am followed by the Holy Rosary with Sister Dolores at 11:45 am.
Rosary Prayers for the Coronavirus HERE.
Pastor's Corner: Prince of Peace is here for you!
Prayer Intentions and Photos: Don't forget to email or drop off your photos for the pews and prayer intentions to be placed on the altar during Mass.

---
Food Pantry Drive-thru: Wednesdays 10 – noon. Drop off Monday -Wednesday and Fridays from 9:00am – 3:00pm at the parish office. Drop off on Thursdays from 9:00 am to noon at the parish office.
Download Parish Bulletin: Not currently available in print.
Mask Sewing Ministry: VOLUNTEERS wanted for this important ministry. DONATE.
---
Pope Francis:  "Do not be afraid! Christ my hope is risen!" 4/12/2020
The Holy See calls for the praying of the Holy Rosary in the month of May to end the Coronavirus.
USCCB Facebook   
View the Renewing the Consecration of the United States to the Care of Our Blessed Mother.
Diocesan Message from the Priesthood, The Bishop's live-stream schedule, Resource and Communications page, and Information on the COVIDG-19 , The Bishop's Mother's Day Message
"O God, eternal light and day without sunset, fill with your goods those who devote themselves to your praise and the service of those who suffer, in the countless places of humanity's sorrow. Through Christ our Lord. Amen."  ~Pope Francis 4/10/2020