---

---

---

---

---
Livestream Mass: Facebook or YouTube, Sunday Worship Aid.
---
Daily Mass: Tuesday – Friday 9:00am (in-person & livestream) followed by he Holy Rosary with Sister Dolores at 9:45am.
Weekend Masses: Saturday: 5:30pm (in-person), Sunday: 9:00am (in-person), Sunday: 11:00am (in-person & livestream)
Click Here for the Angelus.

---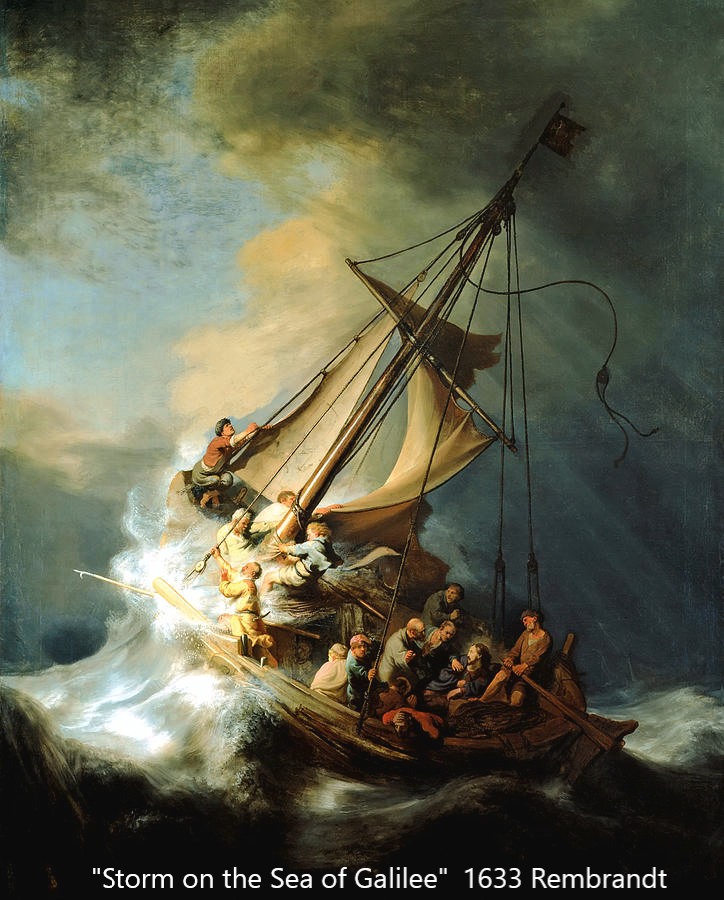 Jesus Calms the Storms in Our Lives:
Gospel reflection on Mark 4:35-41. Sunday June 18, 2021
We all have worries which are a natural part of being human. However, Jesus teaches us to have faith and trust in God's protection and love, no matter how bad the storm. Like the disciples shown in Rembrandt's "Storm on the Sea of Galilee," we can bring our worries and concerns to Jesus in prayer and trust in God's care for us in times of need. Jesus can even strengthen our trust when that trust in God is fragile. This week, gather your family to discuss: Why were the disciples worried about the storm? Why wasn't Jesus worried about the storm? Tell them, when we bring our worries to Jesus in prayer Jesus teaches us to trust God. Invite each family member to talk about something that might be worrying them. Talk about how important it is to share worries and concerns with other people too. When we do this, we learn to see our worries from a different perspective. Then pray together that Jesus will help us have faith in God's love and protection.
---
What's New?
Download Parish Bulletin
Food Pantry Drive-thru: Wednesdays 10 – noon
Notice: The Sunday 11:00 am and all daily Masses are live-streamed for use on various Diocesan digital media accounts of the Catholic Diocese of Richmond, including, but not limited to, the websites of the Catholic Diocese of Richmond and The Catholic Virginian, and social media platforms of the Catholic Diocese of Richmond. Photography and/or screenshot images from the live-stream may be used for The Catholic Virginian print edition. If you do not wish to be captured by live-streaming, please refrain from attending those Masses.
---
Pope Francis speaks on the Topic of Love:
"Love is the greatest power for the transformation of reality because it pulls down the walls of selfishness and fills the ditches that keep us apart." (Pope Francis).