Middle and High School Formation 2022-2023
REGISTRATIONS HAVE BEGUN! Register for Sunday evening Middle and High School Formation HERE. Classes meet twice a month from 6-8pm during the school year and cost $45 ($100/family). For more information about our Sunday evening Youth Ministry program, call the parish office at 757-547-0356 or email Kelly Bruno at [email protected]. Any donations for Youth Ministry are greatly appreciated. Thank you for your support!
MIDDLE AND HIGH SCHOOL YOUTH MINISTRY
Christian Formation nights offer youth a chance to deeply explore their Faith in an engaging format. Our program is a youth ministry movement that leads teenagers and their families into a deeper relationship with Jesus Christ and His Church. Their comprehensive formation is enhanced with music, games, activities, skits, and lively small group discussions. Our program offers teens opportunities to explore deep issue night topics and apply the teaching of their faith.
We learn what it means to be a Eucharistic people focused on the true presence of Jesus Christ in the Eucharist. Our holistic youth ministry approach helps us delve deeper into social issues, discover our purpose in the Church, and live out our faith in youth events of fellowship, spiritual development, and service to our community. Class meets on Sunday evenings at 6:00 p.m. and lasts until 8:00 p.m.
Peer Ministry
Are you a Confirmed Teen 15 years or older? Peer Ministry is a no-cost faith and fellowship group of future teen leaders in our parish. Peer Ministers mentor younger teens while enjoying the friendship of like-minded teens. They are responsible to do the youth ministry prayer services at the start of each formation night. All Peer Ministers are trained in leadership skills, and can also receive special instructions to be Lectors, Eucharistic ministers, Cross Bearers, and to assist during their youth Masses and prayer services. Aside from the increased number of service hours for school and other scholastic awards, teens also receive documented leadership experience that looks great on college applications and job resumes. To register for Peer Ministry, simply use the Middle and High School Formation link and choose "Peer Ministry" as your teen's class!
Youth Council
Youth Council is a representative group of teens from Middle School through High School who meet every two months to discuss any matters concerning the youth of our parish. They act as an advisory board to youth ministry, and the president and vice president also serve on Parish Council to advise the parish of matters which affect youth at Prince of Peace.
Youth Events!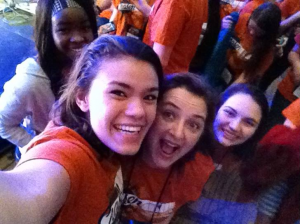 Youth Ministry combines faith and fellowship in our many youth events such as: Youth Mass, Water park day, blacklight mini-golf, Bake-A-Thon, Regional Faith Enrichment Event, and Diocesan Youth Conference (DYC). Opportunities for service include: Event fundraisers, CAST welcome bags for the homeless, Education Wing painting days, Youth Missions, and Teen Soup Kitchens.
Upcoming Youth Events & Deadlines
| | |
| --- | --- |
| Date | Event |
| November 17th – Movie Night! (Friday) | Middle & High School Movie Night    6-8pm       FREE |
| December 1 – Family Paint Night (Friday) | Family Paint Night 5:45-8:00 pm. $20 or $25 at the door (Bring a dessert to share) |
| December 3 – Hot Dog Sunday | Hotdog Sunday after 9am & 11am Masses (Volunteers needed) |
| December 9 – Craft Fair (Saturday) | Holyday Craft Fair 9am – 3pm (Volunteers needed 9-11am, 11am-1pm, 1-3pm) |