Mission of Legacy Giving
Our Prince of Peace Legacy Giving Program is established to provide individuals with opportunities to generously contribute planned gifts for future use, and to benefit the financial security of the parish in perpetuity.
Get Your Affairs in Order Planning Seminars/Webinars – May 11 and 20, 2021 – all are invited! [download for details]
​Whether or not you have decided to participate in Legacy Giving, you should consider attending  one of our "Get Your Affairs in Order" Planning Seminars, conducted here at Prince of Peace (and Webinar presented over Zoom) by a financial expert from the Diocese of Richmond.  Do you have a will? If so, is it up to date? Learn how to protect the assets that make up your estate, and ways to protect your loved ones, including use of Wills, Trusts, Advance Medical Directives, Estate Planning, Tax Treatment etc.
Parishioners will have the opportunity to learn more about these important topics:
Estate Planning
Catholic principles for Advanced Medical Directives
Catholic Principles for Funeral Planning
Legal Considerations for Wills, Trusts, and Beneficiary Designations
If you will be participating in the webinar via Zoom: Download and save or print these materials:
Advance Medical Directive Guide [download]
Advanced Medical Dilemmas and Moral Decision Making [download]
Difference Between Wills and Trusts [download]
How Long Should You Expect the Probate Process to Last? [download]
Is My Will Still Valid if I Move to Another State? [download]
Virginia Organ Donation [download]
Virginia Durable Do Not Resuscitate Order [download]
Wills in Virginia [download]
Prince of Peace Legacy Endowment
Our goal is to establish a $1,000,000 endowment for the financial security of the parish, and Legacy Giving is important to that effort. When donations result in $10,000 on hand, the funds will be entrusted to the Catholic Community Foundation to manage the endowment for growth of principal. This fund will be used solely to support the mission and operations of Prince of Peace Catholic Church.
Donors may make contributions to the Prince of Peace Endowment Fund throughout the year, in any amount.  Each donation should indicate in memo form "For POP Endowment Fund" (if not so identified, the gift will be placed in the parish operating fund). Donors may consider making a contribution in another's honor: as a memorial, to commemorate an anniversary, birthday, or retirement, to acknowledge gratitude, or perhaps as simply a gift to honor a "person who has everything".  Each such contribution will be gratefully acknowledged by notice to the individual or group so honored, and by a thank-you letter to the donor including a copy of the acknowledgment notice to the honoree. The amount of the contribution will not be identified to the honoree unless desired by the donor.
Legacy Endowment Fund Benefits
Creates an ongoing source of income.
Offers donors peace of mind knowing that their assets will be available to meet unforeseen expenses.
Relieves pressure on weekly and annual offertory funding.
Allows program expansions and capital improvements.
Offers flexibility for parish leadership to meet new challenges.
Builds a strong stable future for our parish as legacy gifts come to fruition.
 Types of Legacy Gifts

Gift from a Will or Living Trust
A gift from a will or living trust are two of the most common ways to create a legacy gift for the benefit of our parish.  A bequest may include cash, specific property, or a share of the estate.
Gifts of Stock and Appreciated Assets
Donating stocks, bonds, or mutual funds directly to Prince of Peace Parish can significantly increase your tax deduction and the amount of income our parish receives.
Gifts from your Retirement Plan
Gifts of retirement assets are another simple way to leave a gift by naming Prince of Peace as beneficiary of a percentage or the full amount of your Individual Retirement Account, 401k or other qualified retirement plan.
Gifts of Life Insurance
There are many ways in which life insurance policies can be used to make a contribution, all of which provide tax deductions and the opportunity to make a more substantial gift than otherwise possible.  It is easy to name Prince of Peace as the beneficiary of a policy or transfer ownership of a paid-up policy to our parish.
Gifts of Real Estate
Prince of Peace Catholic Church may be named as beneficiary or co-beneficiary to almost any type of personal property or real estate.
Contributors to the Prince of Peace Legacy Giving Program will become members of the Lumen Christi Legacy Society. Through this program, we can each leave a legacy that will help our parish and parishioners keep our faith journey and parish ministries thriving in the future.
Note: Prince of Peace Catholic Church does not provide legal or financial advice to current or prospective donors.  Always consult your attorney and/or financial advisor before making any important decisions that may impact your estate.
 For more detail, view and download the Guide to Legacy Giving Brochure.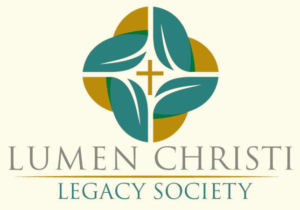 Lumen Christi Legacy Society
Lumen Christi means "Light of Christ" which is the light in all things, which gives life to all things. This power is an influence for good in the lives of all people, and members of the Lumen Christi Legacy Society share in this purpose.
Contributors to the Prince of Peace Legacy Giving Program will become members of the Lumen Christi Legacy Society. Through this program, we can each leave a legacy that will help our parish and parishioners keep our faith journey and parish ministries thriving in the future.
Membership in Prince of Peace Catholic Church Lumen Christi Legacy Society Chapter is automatic for any parishioner who makes a legacy gift to our parish. The amount of your legacy gift is never publicly disclosed, it is a commitment known only to you, your family and the parish administration.
Members of the Lumen Christi Legacy Society are led by their faith and values to preserve our Catholic heritage and ensure everlasting giving for the future. To express gratitude for this final act of faith and demonstration of love for God and others, its members will receive the following special recognitions:
A commemorative pin to wear to Mass
Invitation to The Lumen Christi Legacy Society Annual Mass and Luncheon with the Bishop
Invitations to the Chrism Mass, Diaconate Ordination Mass, and Priest Ordination Mass
Access to the Director of Planned Giving for personalized legacy planning consultations
To include a legacy gift in your estate plans, please complete the Intention Form.
If you have already included our parish in your Will, we would invite you as our newest Lumen Christi Legacy Society member, in that case please call the parish office at (757) 547-0356 or email: pop.offic[email protected] to be included.   We thank you for your support.
Lumen Christi Recognition
Prince of Peace is extremely grateful to everyone who has joined our Lumen Christi Legacy Society Chapter.  For those who have chosen to remain anonymous, we recognize you in our hearts.  Thank you for your contribution (gift).  We celebrate your generosity and commitment to our future.
Legacy of Prince of Peace Parish – Our Founders
The beginning of any legacy always involves someone with a purpose and the history of Prince of Peace Catholic Community is no exception.
It was to Mrs. Eva Shellaby's persistence and encouragement that we owe our existence today. The original need was for a sewing group to assist with St. Matthew's bazaar, but it wasn't long before Great Bridge Catholics wanted an identity, a Catholic identity in Great Bridge. Seven women (Marguerite Frost, Jean Smith, Jean Allen, Ellie Leftwich, Alice Lewis, Rose Mary Kannuck and Mrs. Shellaby) formed this group and began to meet in their homes. Others soon joined and in June 1970, Bishop Russell sent a letter stating, "Let us start off with a name for the mission, which hopefully, someday will be a Parish. Let us call it 'Prince of Peace'."
In 1970, the Mission started with 140 families, and in February 1976, ground was broken on the site of the new worship center and Thanksgiving liturgy was the first service held on the church site. Over the years since our parish has grown in numbers, and faith, and continues to celebrate its life in the Lord and to honor the intentions of our founders by celebrating Sacraments, by educating, by serving the needs of others, and by building community.
FOR MORE INFORMATION
To learn more about leaving a legacy gift to Prince of Peace, please contact Nick Vacca or Karen Pacomio at the parish office at (757) 547-0356.  Thank you for considering a legacy gift and for your generosity to Prince of Peace Parish.
Prince of Peace Legacy Giving Committee Members
Roy Brown  |  Al DeGuzman  |  Judy Florance  |  Paul Hoppenjans  |  Keith Koon
Tom Lynch  |  Charles McNally  |  Tom Packert  |  Karen Pacomio  |  Nick Vacca