New: Worship Aid and Copywrite information downloads.
05/3/2020 Worship Aid                © Copyright (Coming Soon)
Bring the hopes of every nation; Bring the art of every race. Weave a song of peace and justice; Let it sound through time and space. Let us bring the gifts that differ and, in splendid, varied ways, Sing a new church into being, One in faith and love and praise. Draw together at one table all the human family; shape a circle ever wider and a people ever free. Sing a new church into being, One in faith and love and praise.
This song text by Sr. Delores Dufner, OSB, sums up the mission of the Music Ministry of the Church. As each of us becomes more aware of our God-given gifts and talents, take time to discover ways to give them back to God. As part of this process, the parish is growing in its understanding of music ministry, welcoming all who wish to participate.
Music Sound Tracks: (Coming Soon!)
POP Flute Choir 11/24/19: 'Tis a Gift to Be Simple
Children's Choir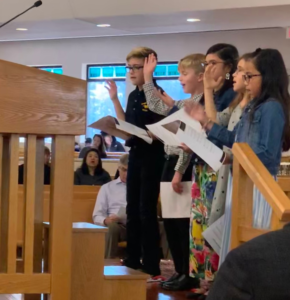 All children from 1st through 8th grades are welcome to join us for Children's Choir rehearsals on Thursday evenings from 6:00 p.m. to 6:45 p.m. in the Worship Space. The Children's Choir sings monthly at one of the Sunday morning Liturgy.
Adult Choir
Adult Choir is open to adults and sometimes high school students. Rehearsals are on Thursday evenings from 7:00 p.m. to 9:00 p.m. The Adult Choir is open to those who
enjoy singing with others and especially praising the Lord through song. All music is provided. Knowing how to read music is helpful; however, basic music reading skills is part of the instruction along with some of the basics of vocal technique. All that's really needed is openness to learning. The Adult Choir sings weekly at the 11:00 AM Liturgy.
Cantors
Cantors should speak with Margaret Bailey to sing at a Saturday evening or Sunday morning liturgy. Cantors are also contracted to sing for weddings and funerals. Rehearsals are based upon each individual's schedule.
Cantor Families
At times musical families come together to share their special talents. They cantor as a family and lead the music for select Sunday and holy day liturgies.
Parish Orchestra
Our Prince of Peace Orchestra meets on Wednesday evenings from 7:00 p.m. to 8:00 p.m. It is open to any band and orchestra instrumentalist from middle school students through adults. We also have a Flute choir, a string ensemble, and a saxophone quartet/quintet. All music is provided. You must bring your own instrument.
Hot Dog Sunday!
Once a month we all get together to help raise money to benefit everyone in the parish. On the first Sunday of the month we sell hot dogs and barbecue in the Parish Hall. All proceeds help purchase the wonderful music and supplies needed for our Music Ministry.
Contact Music Ministry
For more information about Music Ministry or to inquire about joining us, please email Margaret Bailey or contact the parish office at 757-547-0356.