LEGACY GIVING
End of Life Decisions Planning Seminar – Coming March 2020 – all are invited!
​Whether or not you have decided to participate in Legacy Giving, you should consider attending the End of Life Decisions Planning Seminar, conducted here at Prince of Peace by a financial expert from the Diocese of Richmond.  Parishioners will have the opportunity to learn more about these important topics:
 Catholic principles for Advanced Medical Directives

 Catholic Principles for Funeral Planning

 Legal Considerations for Wills, Trusts, and Beneficiary Designations.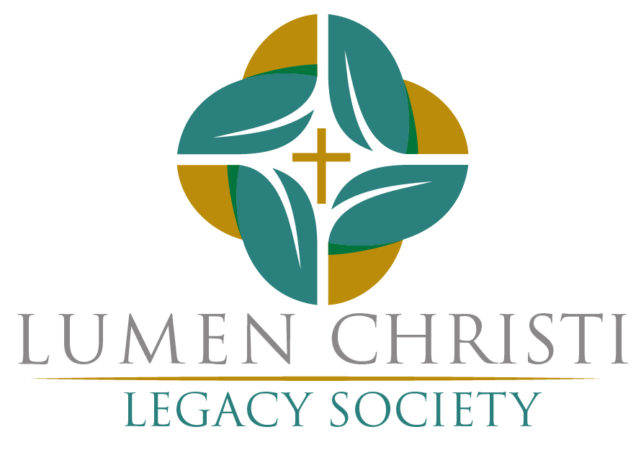 Lumen Christi Legacy Society (COMING SOON!)
Our Prince of Peace Legacy Giving Program is launching in March 2020! Through this program, we can each leave a legacy that will help our parish and parishioners keep our faith journey and parish ministries thriving into the future. Do you have a will? If so, is it up to date? Learn how to protect the assets that make up your estate, and ways to protect your loved ones, including use of Wills, Trusts, Advance Medical Directives, Estate Planning, Tax Treatment etc.
What Does Lumen Christi Legacy Society Mean?

Lumen Christi means "Light of Christ" which is the light in all things, which gives life to all things. This power is an influence for good in the lives of all people, and members of the Lumen Christi Legacy Society share in this purpose.
Membership in Prince of Peace Catholic Church Lumen Christi Legacy Society Chapter is automatic for any parishioner who makes a legacy gift in their Will to our parish. We are honored to acknowledge these special benefactors. However, the amount of your intended legacy gift is never publicly disclosed. This is a commitment known only to you, your family and the parish administration.
If you have already included our parish in your Will, we would invite you as our newest Lumen Christi Legacy Society member. To learn more about leaving a legacy gift to Prince of Peace, please call (757) 547-0356 or email the parish office.
History & Introduction
Any history involves someone with a purpose and the history of Prince of Peace Catholic Community is no exception. It was Mrs. Eva Shellaby's persistence and encouragement that we owe our existence today. The original need was for a sewing group to assist with St. Matthew's bazaar, but it wasn't long before Great Bridge Catholics wanted an identity, a Catholic identity in Great Bridge. Seven women (Marguerite Frost, Jean Smith, Jean Allen, Ellie Leftwich, Alice Lewis, Rose Mary Kannuck and Mrs. Shellaby) formed this group and began to meet in their homes. Others soon joined and in June 1970, Bishop Russell sent a letter stating, "Let us start off with a name for the mission, which hopefully, someday will be a Parish. Let us call it 'Prince of Peace'."

Mission of Legacy Giving
A Legacy Giving Program is necessary for Prince of Peace Catholic Church to accomplish its mission. While many individuals do not have the capacity to give a large gift to the church, they are willing to commit to a future planned gift. Legacy gifts are typically the most significant gifts a donor will ever make. The best way for a legacy gift to be used for the church is to designate it as an unrestricted amount to the church's endowment fund. This fund will provide the financial security for the church in perpetuity.