MASK SEWING MINISTRY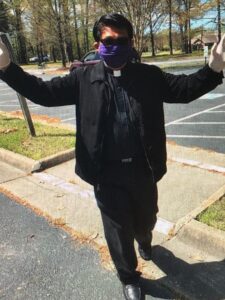 Hello Prince of Peace Church! My name is Sophia Nguyen, and I am the Youth Council Chair.  My mom and grandma own an alteration shop called Vans Alterations. Currently, we are trying to make as many nonsurgical masks as we can for those in need. We've decided to come together with Prince of Peace Catholic Church and form a Mask Sewing Ministry.
If you are interested in being involved with the Mask Sewing Ministry there are several ways to do that.
Donate Material to make masks: We currently need 100% cotton fabric and 1/4 inch of elastic material (this is HIGHLY needed).  You can purchase these items at JOANN Fabric and any Craft Store. If you have any of these materials, we will gladly take them. You can drop the materials off at the parish office between 9am-3pm Monday through Friday.
Volunteers to make masks: For those who have SEWING machines and would like to join in on making the masks, my grandma, mom, and I will be sending VIRTUAL lessons on how to make the masks.  We will be making mask kits, that will include the supplies to make the masks. Once you are done with making the masks, there will be a box to drop off completed masks at the parish office between 9am- 3pm Monday through Friday. Please call the parish office if you would like to help.
Donations: If you are unable to sew, or gather materials but would like to help out a donation is always welcome, anything is beneficial! We will do all of the shopping for the materials. Donations can be made online at the POP website or at the Parish Office.
Thank  you so much for joining in on helping our community during this difficult time. God Bless!