CLOW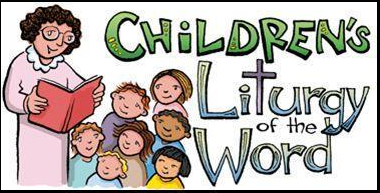 Need something to assist your young child during Mass? Children's Liturgy of the Word takes place during the 9:00 AM Mass for children ages 4-6 years. It will begin on December 3rd and will run through May 5th. Whether you are present at Mass or viewing Mass online from home, don't forget to  download your CLOW activity worksheet here!
CLOW Dates:
December           3, 10, 17
January                7, 14, 21, 28
February              4, 11, 18, 25
March                   3, 10, 17, 24 (extended for Palm Sunday)
April                       7, 14, 21, 28
May                       5
What happens in CLOW?
CLOW is designed to bring the weekly Gospel message to preschool children. CLOW is offered during mass, and no registration is required. All 4-6 year old children and those in kindergarten are invited to attend. Father will invite the children to the front of the altar after Opening Prayer. The community prays over the children and they leave with the volunteer for their classroom in the Education Wing.  In the classroom, the CLOW workers read the Gospel to the children in terms they understand. Then they complete a small activity sheet. The children return to join the rest of the congregation following the Prayers of the Faithful.
How can I volunteer for CLOW?
To volunteer for CLOW, you will need to contact the CLOW coordinators. All CLOW volunteers are required to take a one time VIRTUS Protecting God's Children class and to complete their monthly ongoing formation bulletins to stay updated on the latest developments in our Diocesan Safe Environment Program. Additionally, CLOW volunteers complete a safe environment screening every 5 years. Millie Velez and Bobbi Yeager are the Contacts.
CLOW Contacts:
For more information about CLOW or to volunteer to help with CLOW, call 757-547-0356 or email the parish office.