Volunteer Opportunities:
Thank you for your interest in serving our Prince of Peace children and youth! It is our goal at Prince of Peace to ensure every child and adult receives the tools they need to joyfully be a living example of Jesus' love for others. We do this through the generous gift of amazing volunteers like you!
Receive contact information for the ministry coordinators by emailing the Parish Office.
Do you want to serve where your help is needed most urgently? Look no further. You don't have to be an expert. You only need the desire to share God's love with another person. I promise it will bring you great joy and satisfaction to share your faith with a child or adult. Volunteers should be a confirmed in the Catholic Church and agree to undergo training to help prepare you for this exciting mission.
CLOW – Children's Liturgy of the Word
CLOW takes place during the Sunday Morning Masses at 9:00 AM and 11:00 AM. You will be sharing the weekly gospel message with 4 to 6 year olds. Our curriculum takes very little time both to prepare and deliver, and you share the responsibility with another adult. The commitment is one or two Sundays, per month depending on the number of CLOW volunteers.
Elementary Catechist or Assistant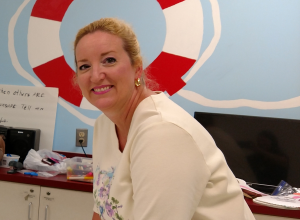 These catechists share their Catholic faith with our Kindergarten through fifth graders. You would be helping a child follow Christ by presenting or assisting a catechist in a classroom setting. A prepared curriculum is used, and all materials are provided. Sunday mornings at 10:05 A.M. – 10:55 A.M. Substitutes are also needed to act as assistants when a Catechist or Assistant cannot be present.
Vacation Bible School
7th – 12th grade teens and Adults are needed to help with decorating, set constructing, and/or running VBS activities, crafts, games, snacks, music, and group leader roles. Do you have great ideas for next year's VBS? Join our VBS planning team and help us dream up all kinds of fun things to do! Commitment: Setup 9:00-noon the week before VBS, VBS activities and instruction 9:00-noon the week before VBS, VBS Planning Team 4 to 5 meetings a year.
Middle and High School Formation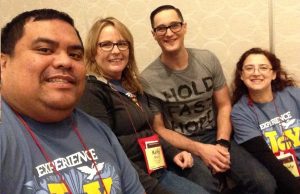 What many people don't realize is that teens are deeply spiritual and are looking for role models to gently guide them to a deeper relationship with Jesus. There are many ways you can help make this a reality. We can use your assistance in the following areas:
Small Group Leaders – Small Group Leaders attend the formation night as support, Volunteer Youth Ministers (VYMs). There are many groups, so many VYMs are needed to lead groups of 5-8 teens in discussions on the evening's topic. Questions are provided for you, so there are no special skills required. You need only have the desire to listen. Small group discussions last 15 to 20 minutes, then you will continue the evening as a support VYM. Sundays 6:00-8:00 P.M.
VYM Catechists – VYM Catechists commit to one to two presentations a year on the topic of the night. Perhaps you have the passion for sharing your faith with a larger group of teens. Or perhaps you enjoy leading large group games or activities to enhance their learning experience. Either way, this is the role for you! When you are not presenting, you act as support VYMs for the group. Sundays 6:00-8:00 P.M.
Fundraising Teams – It takes a minimum of three adults to assist with each fundraising event. These fundraisers help to lower the cost of fun activities like the Water Park and the Diocesan Youth Conference, our annual Catholic youth revival. Ideally, we should have one volunteer team per fundraiser.
Event Chaperones – Every event needs two to five adults to help supervise the activities. This is a fun way to get involved, because it combines the fun activity with mentoring.
Snack Masters – Every formation night requires a Snack Master to lay out the snacks at 6:30 pm. Each grade takes turns bringing in snacks to restock the shelves. The commitment is about 1 hour per week.
For information on how to get involved, call Melody Smith at the parish office 757-547-0356 or email Christian Formation.
Adult Volunteer Opportunities for the Whole Parish
Adults are always needed to assist with the multitude of ministries and activities happening around our Parish. Check out our Ministries pages to find one that's right for you! For more information, call Sister Dolores at the Parish office 757-547-0356 or email Pastoral Staff.