Stations of the Cross by Father Romy Friday, April, 3, 2020.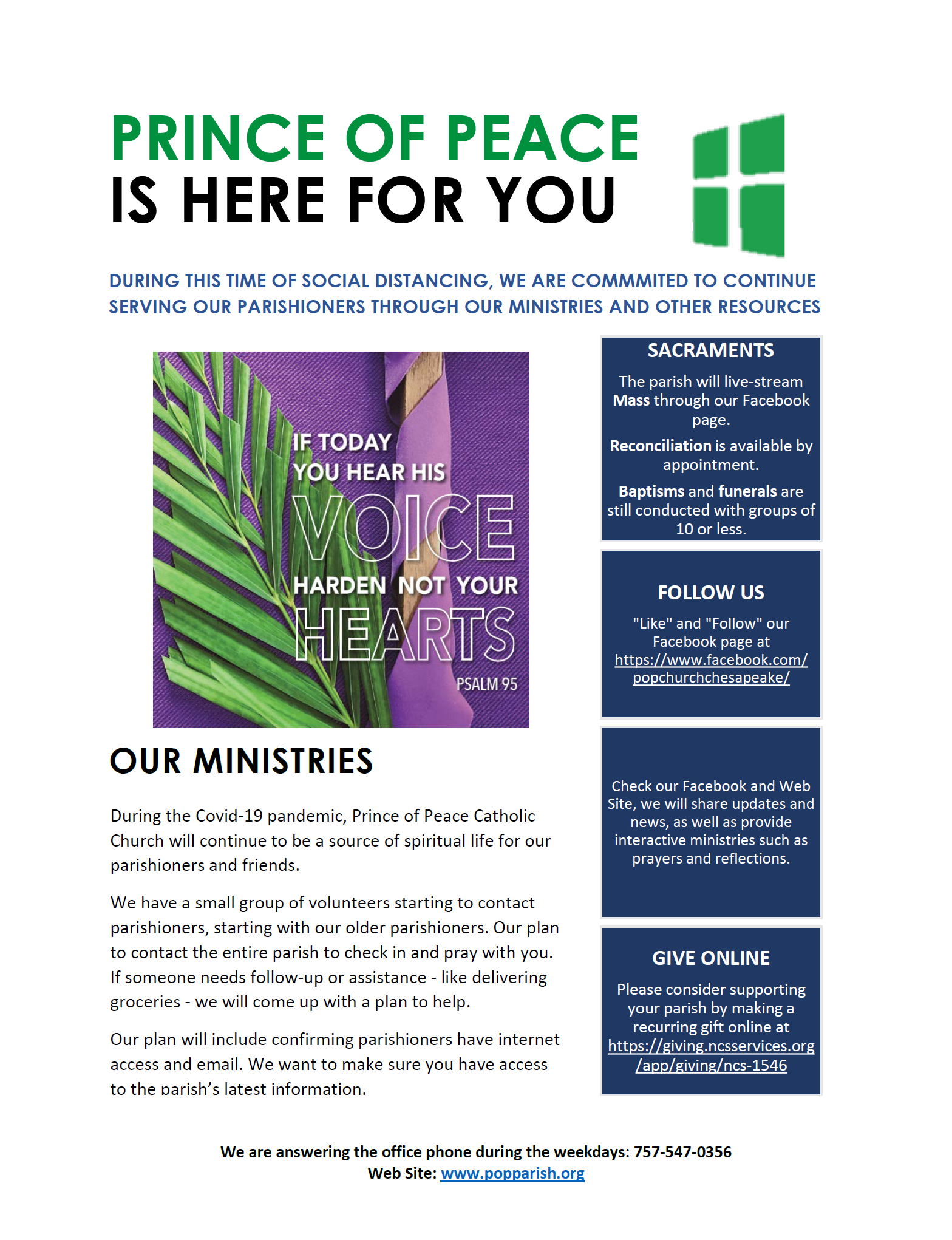 My Dear Parishioners,
Greetings of Peace!
As we face the uncertainties and the growing of anxiety due to the spread of COVID-19 that became a pandemic concern, our Bishop, Most Rev. Barry C. Knestout, D.D., has given us directives to be followed in the whole Diocese of Richmond on how to respond to the pastoral needs of the faithful. As a community of Prince of Peace, let us always be mindful that we journey with Faith like the Israelites walking in the desert and that God called us also to be faithful to Him. As Psalm 91 says:
"You will not fear the terror of the night, nor the arrows that fly by day, nor the plague that prowls in the darkness, nor the scourge that lays waste at noon. A thousand may fall at our side, ten thousand fall at your right, you it will never approach: His faithfulness is a buckler and shield."
As we journey with Jesus and His mother Mary on this season of Lent, let our personal prayers, fasting, and alms-giving be our strength in facing the challenges ahead of us. May the Immaculate Heart of Mary intercede for us to Jesus, the Prince of Peace.
With Prayers,
Very Rev. Romeo D. Jazmin, V.F.
Pastor
ORATIO IMPERATA
God our Father,
We come to you in our need
To ask your protection against the 2019 N-Corona Virus,
That has claimed lives
And has affected many.
We pray for your grace
For the people tasked with studying the nature and cause
Of this virus and its disease
And of stemming the tide of its transmission.
Guide the hands and minds of medical experts
That they may minister to the sick
With competence and compassion,
And of those governments and private agencies
That must find cure and solution to this epidemic.
We pray for those afflicted
May they be restored to health soon.