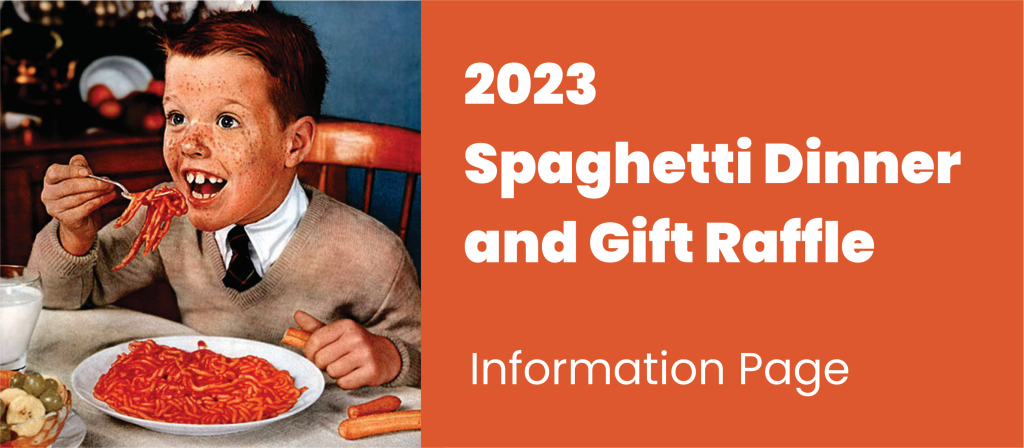 ---
Come Join Us For A Homemade Spaghetti Dinner!
We make spaghetti sauce from an old parish recipe! The meal consists of a plate of hot spaghetti, salad, bread, drink and homemade dessert. Adults are $6 and kids are $3 (under 5 are free). Wine and beer are available for an extra charge.
This page is where you will find everything related to the event. Please follow the links below to purchase dinner tickets, download a donation form, or volunteer to help.
---
---
RAFFLE ITEMS – Our primary goal now is to get the raffle items to the church so we may begin the process of setting up the raffle. If you have an item to donate, please print this form and bring it with your donation to the church office during regular hours, or between the Masses on weekends. We would love to have all of the gift items in no later than Friday, October 13, 2023, please. But sooner, if possible!
Raffle items from the past have included power tools, game consoles, wine & cheese baskets, gift cards, bicycles, kayaks, grills, homemade items like quilts/afghans, Legos, dolls, electronics of all types, camping & fishing gear, jewelry and accessories; use your imagination!
PLEASE NOTE: If you prefer to make a monetary donation and let us do the shopping, please follow this link to complete your contribution online.
---
VOLUNTEER – This is a labor intensive event that has many moving parts, and needs energetic volunteers of all ages. So, young or old, please consider helping with the Spaghetti Dinner & Gift Raffle this year. It's a lot of fun and you can spend time with old friends, and make some new ones!
SET-UP TABLES : WEDNESDAY, OCTOBER 25TH
WORK AT THE DINNER : SERVE, BUS TABLES, ETC…
PARISH HALL CLEANUP AFTER DINNER
RAFFLE ITEM RELOCATION : SATURDAY, OCTOBER 29TH AT 10:00AM
GIFT DISTRIBUTION TO WINNERS : SUNDAY, NOVEMBER 12TH
---
We look forward to a terrific event this year and hope you can participate. All of the funds raised from this event are used to support our parish mission and outreach ministries. Peace & blessings.